(hiking across a frozen Avalanche Lake)
It was one of those spur of the moment decisions when a concurrence of circumstance affords you some time off, a little cash, and that adventure buddy who hits you up at just the right moment. "u wanna go to the 'daks? i'll drive… we could leave after work?" How could I possibly resist such an opportunity? There is just something about the prospect of a snowy summit and crisp fresh mountain air that gets my heart pumping like nothing else in this world.
I've explored the high peaks some; summited Mt. Marcy and spent a few days canoe camping in Saranac Lake, but all of that was in the summertime. But this- this was a different story completely. The high peaks in December? They had just been dumped with about two feet of fresh powder. Was I ready for this? I borrowed a zero degree rated sleeping bag and a bivy sac. I really wanted to get a real winter camping experience under my belt. I left my fears and doubts in Philly and as any great adventure begins, I left in the middle of the night bound for the high peaks.
We "planned" to park at the Adirondack Loj, hike to a lean to near Marcy Dam, drop our heavy sleeping bags and pads and do a loop up and around Algonquin. I say "planned" because from my experience with mountaineering the weather can change in a heartbeat, and you have to be able to adjust your trip and expectations accordingly.  Also since we were driving all night and doing this without sleep we had to be able to keep an open mind as to what our limitations would actually be.
We hit The Mountaineer first, so that I could rent boots and crampons ($20 per day).  This is THE spot if you are planning to do ANYTHING in the daks. They have EVERYTHING/ANYTHING you could possibly need. Dehydrated meals, fuel, nano puffs, skis, ice axes, climbing rope, canoes, maps, books- you get the idea. They also rent gear, post condition reports, and can refer you to local guide services if you are inexperienced, or want to learn more about climbing mountains and bagging peaks.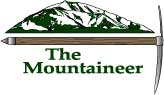 We arrived at the Adirondack Loj at about 9:30AM.  The Loj is located off Rt 73 just outside of Lake Placid.  You can park here overnight for just $10 per day.  There's a camp store, restrooms, and showers!  You can also make reservations to sleep here in front of a giant fireplace if you're fancy and not too keen on sleeping outdoors.  We strapped on our packs and snowshoes, signed the logbook and headed out on to the Blue trail from the Loj towards Marcy Dam.
(trail to Marcy Dam)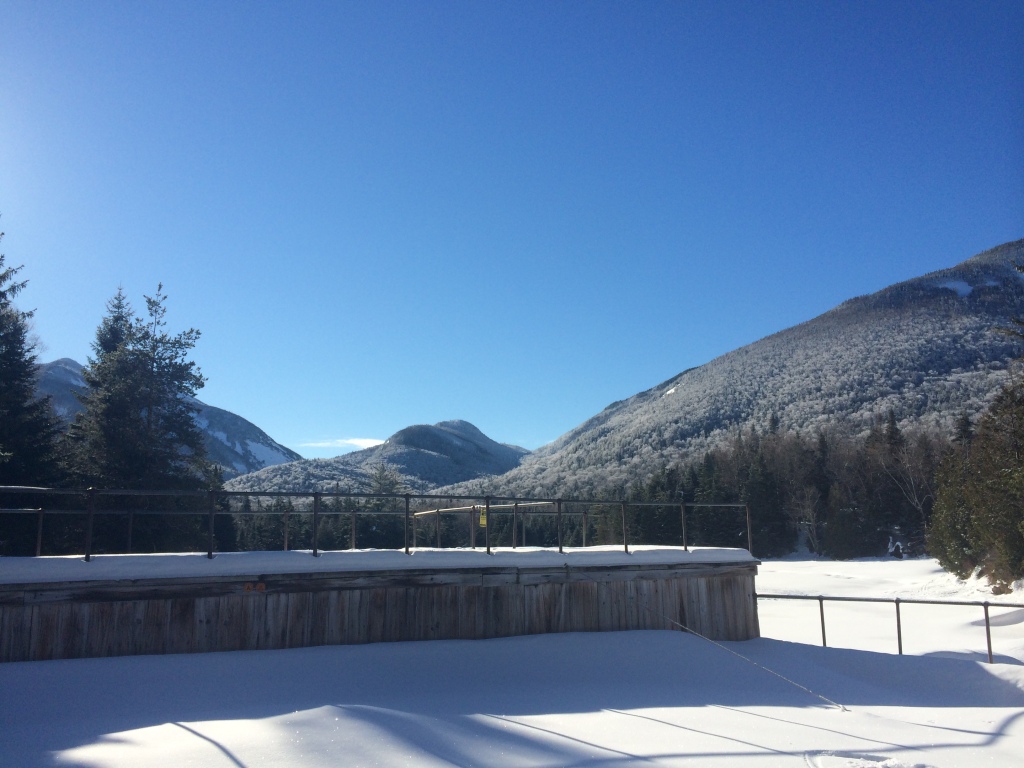 (view from Marcy Dam)
(lean to)
After the 2.0 mile trek to the Dam, we dropped our packs off at a lean to on the south end of the Dam. A ranger suggested we take the Whale's Tail spur up to the summit of Algonquin, instead of looping around Avalanche lake because it was late in the day.  We re-packed our bags taking only the necessary items (puffy jackets for the windy and exposed summit, crampons, some energy blocks, stove, and water) and hit the trail.  IT WAS WILD.  The trail meandered for a long time through thick trees, and then up a steep ravine.  About 30 minutes into the hike, we had a fleeting thought that just maybe we weren't on the Whales Tail trail at all.  The trail was extremely steep, exposed and technical and I was glad I knew how to self-arrest.
Turns out, we weren't on a trail at all.  We never submitted Algonquin, and weren't even on the right mountain (we were on Wrights Peak) We followed the tracks of a group of kids who were skiing down an avalanche slide that was formed during hurricane Irene.  Nonetheless, the views were STUNNING, and I would do it all over again.
We headed back down the way we came, re tracking our steps to the lean to.  We set up our sleeping pads and bags, ate and drank as much as we could to keep warm.  Temperatures dipped to 0 degrees. We filled our water bottles with boiling water, zipped them in our bags, took swigs of tequila and fell asleep before 7PM.
The next morning we set out as soon as possible to keep ourselves warm.  We hiked up the Yellow trail towards Avalanche Lake.  Hiking across a frozen lake was on my bucket list, and I was pretty glad to be able to cross that one off the list.
This trip was brought to you by copious amounts of Yerba Matte and Starbucks Via. We could never have done this without you.