I found myself with a few days off, some new gear and a desire to put in some miles, and sleep in the woods.  That's usually how it goes.  I'd just bought a new ThermARest NeoAir (weighing 12 oz and compressing down to about the size of my nalgene bottle) and new ultralight tent,  which were the game changers for me.  It wasn't so much about weight as it was about space.  For bike packing, you are limited in what you can bring, because you REALLY don't want to carry more than you absolutely have to (especially if there are hills invloved) and you're limited by what you can physically attach to your bike.  I was able to carry everything I needed for camping as well as room for layers, snacks, and of course beers for two full days in two panieers.
I've had a Surly crosscheck for the past few years, it's been my favorite form of transportation.  Because it's a steel frame, I can really load this bad boy up, and remain stable and comfortable on longer rides.  I primarly used it during my daily work commute when I lived in Philadelphia, we've been through a lot together.
I really did very minimal planning for this trip, since I knew that there were an abundance of places for camping, and water/restroom stops about every 10-15 miles.  I've had plenty of friends who've done the Pittsburgh to DC trail, so they've rode the entire length of the C&O path, and I had some great beta going into this trip.  Being that this is a rail trail, you have very gradual gains and losses in elevation.  I of course, wanted to get the biggest bang out of this trip so the portion from Cumberland to Ohiopyle had the most gain in elevation, and made me work for the beer.
I drove down to Cumberland MD, and parked at the Cumberland Trail connection lot, where you can park overnight, for free!  I stopped into the shop, to chat with the guys who run the place and asked for any special beta about the route or anything that I'd needed to know about.  (There is tunnel that's closed for part of the year, but luckily for me it had just been opened that week.)
Since I was doing this solo, I had to do an "out and back" I wasn't going to pay for a shuttle.  I rode north on the C&O path, on to the Allegheny path from Cumberland, over the PA state border, over the continental divide, out towards Ohiopyle State Park, camped, and then headed back in the morning.  During the night, there were large gaggles of wild turkeys hootin and hollarin all night long.  It scared me at first, but sent me to bed laughing at myself for being afraid by a bunch of birds.
The coolest part of this trip, was for sure the tunnels.  There's quite a few tunnels along the Allegheny path that are equal parts terrifying and awesome.  One is about a quarter mile long, you're in complete and total darkness, and at points you can't even see the light at the end of the tunnel!!!!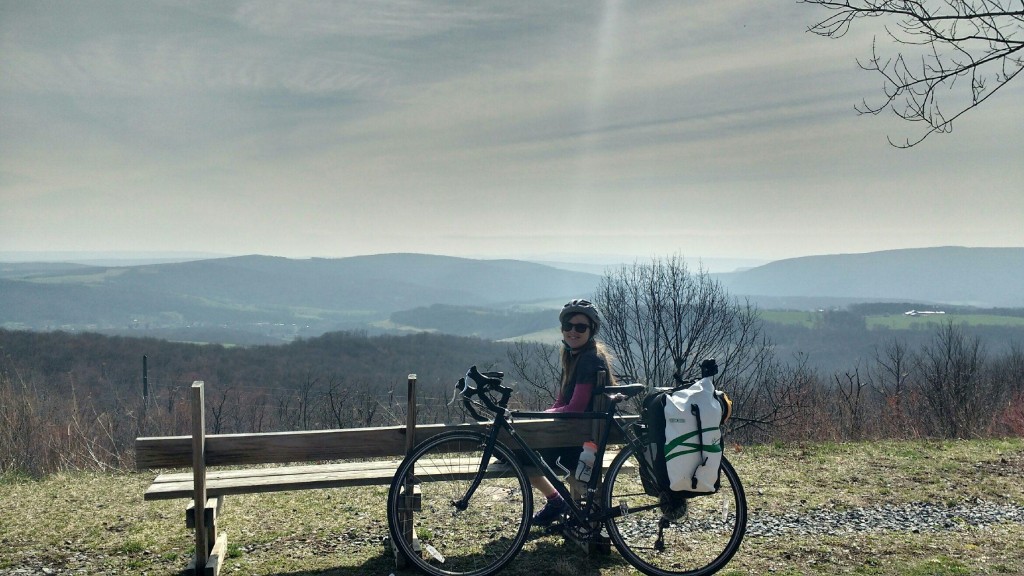 (me and my boo)