The Shawangunk mountains are probably one of the most amazing places to climb in the Northeast, and only about 3.5 hours from Philly. The ridge line will surely make your palms sweaty and your heart race, hundreds of feet of exposed rock that seems unending. Approaching the preserve from Rt. 299 , the expansive ridge is made up of a conglomerate of quartz and sandstone, providing a unique canvas for dancing up slabs, cracks, and overhangs. The largest section is referred to as the "Trapps" and it's the mecca for adventure trad climbers which, if you don't know- require an advanced set of skills, gear (trad rack) and a ton of balls. I've only been lucky enough to climb a few of the routes in this area. Here's is a shot of me at Ken's Crack (5.7) in 2012.

If you continue past the Trapps area west on 44/55 for five miles you hit Minnewaska State Park Preserve, and the Peter's Kill climbing area. This is the place you can take your friends, set up a few ropes and run up routes all day long. Climbs in the gunks generally range from fun to SUPER fun and it's the place to practice your footwork and technique in a slightly more relaxed setting. Setting up top ropes here is breeze, bolted anchors sit atop almost every route, and are easily accessible via the upper trail. Here's a map of the park: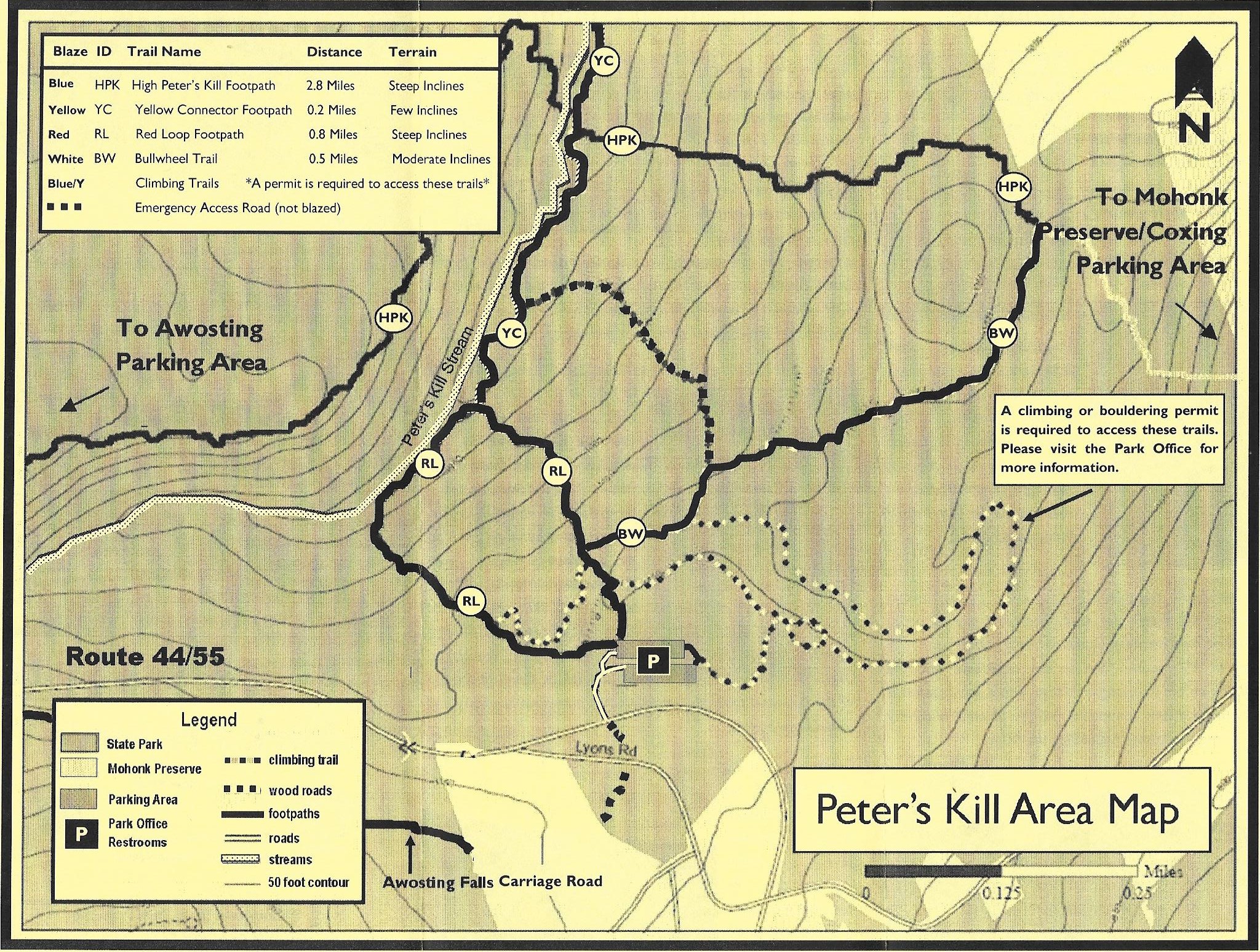 From April 1- December 15, to access the preserve pay a small fee for your climbing pass. You then have access to about a hundred different routes ranging from 5.3 to 5.13 and use of their hot water and hand soap in the heated bathrooms at the parking lot. The local climbing shop Rock and Snow has guides for both the Trapps and Peter's Kill areas and can provide you with any additional information on routes and climbing conditions. Get the guide here.
I was super excited one weekend I was up there the same time an organization called Paradox Sports based out of Boulder, CO was holding an climbing event. They provide inspiration, opportunity, and specific adaptive specialized gear for individuals with many disabilities such as paraplegia, blindness, and amputation. They were a group of professional guides, volunteers, and cadets from West Point. The Peter's Kill area is so well maintained and accessible to so many individuals. The area is an important part of the community and a protected ecosystem. Please always remember to maintain the integrity of the preserve, make no impact and take only memories (and photos) with you. Respect the people you share the space, and the earth with.
The best camping is primitive, the NY State DEC Multi use area is only a few miles down the road, has designated camping spots with established fire rings. Its free and convenient to the preserve and park trail heads, but most importantly to all the excellent coffee shops in New Paltz!
Favorite climbs: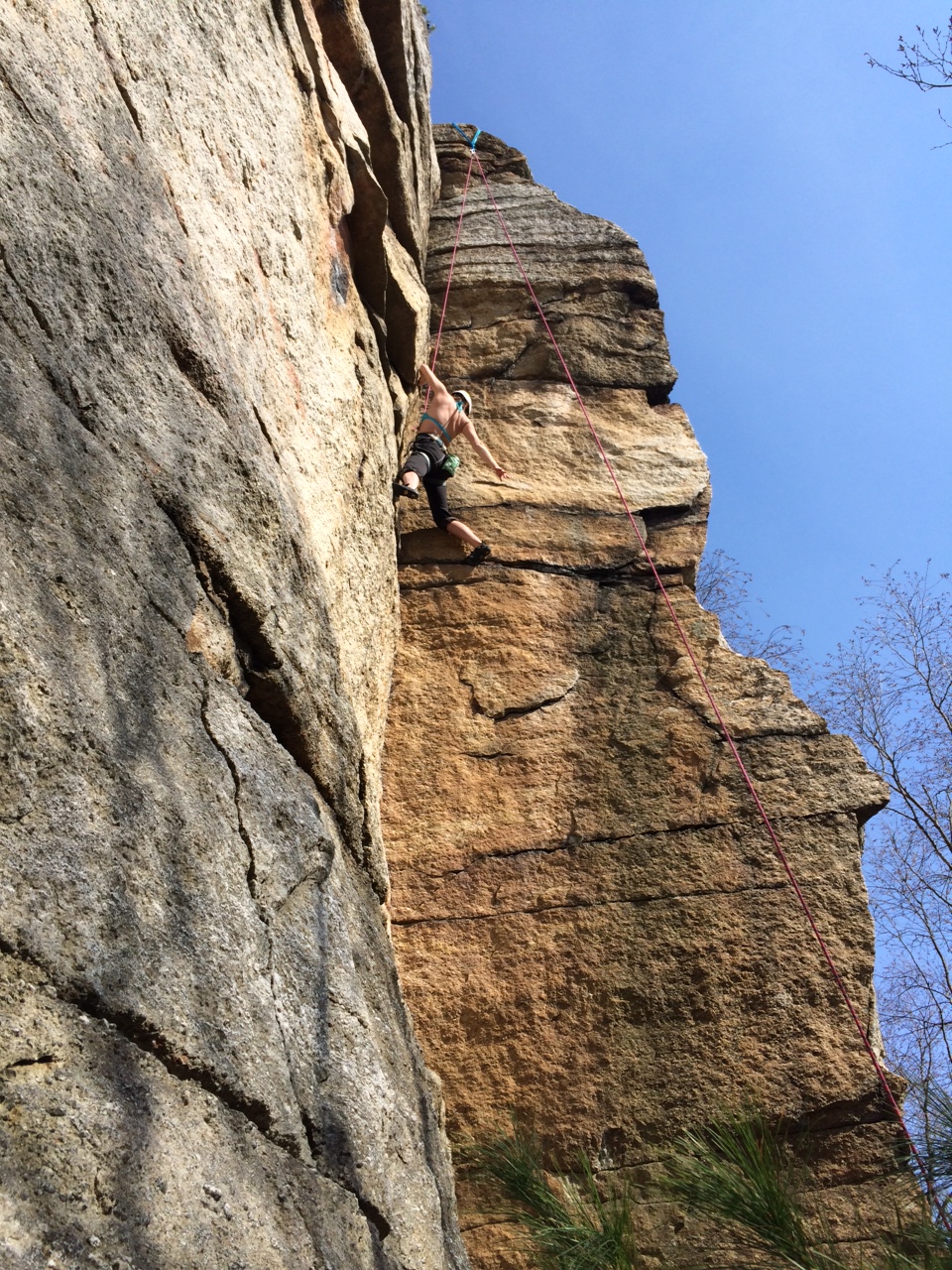 Golden Dream 5.9+
Fickle Fingers 5.10b
Stinky Americans 5.9
Slot Machine 5.6
Popcorn 5.8
Up a Tree 5.6
The Hustler 5.6+
Easy Rider 5.6
Arete I 5.9
Bunk Arete 5.6
Night Owl 5.6