(Old Rag Summit May 2012)
Shenandoah is one of the most beautiful places to explore in the mid-Atlantic. It's forever wild.  Mountainfancy, the idea, was actually born on the car ride to Shenandoah NP with two of my closest ladybirds.  From Philly, the drive is about 5 hours to the Old Rag parking area just off SR 600 near Nethers, VA.  If this is your first visit to Shenandoah, you should take the extra time to drive down Skyline drive, (the 105 mile road that runs directly through the park) the scenic overlooks are abundant.  Just remember to watch your speed limit, and allow for the time it will take to travel to the parking area from the entrance.  Please note, the speed limit on Skyline drive is only 25 miles per hour. Skyline drive is very popular for cyclists, its a 100 mile stretch of two lane highway with endless views and tremendous elevation gain in those miles.   The safest way to pass cyclists, is to SLOW DOWN, and allow enough room to pass them SAFELY (legally, at LEAST 3 feet in the state of Virginia).  The Appalachian trail also crosses Skyline Drive many times, so you must also look out for hikers.  And wildlife. It's likely you will see a bear while visiting, so you should know what to do and what NOT to do when you come across one.
(Cyclists on Skyline Drive 4/2013)
You can enter the park from Front Royal or Thornton Gap, and park near mile 41, just after Skyland area, on the east side of Skyline Drive.  From here you can hike the Old Rag fire road to the Saddle Trail and to the summit of Old Rag.  Depending on how you and your group are feeling you can continue on, or head back to where you came from.  Old Rag is famous for its 360 degree views of breathtaking rolling hills.  The saddle and ridge trails are the "hikey climby" sections, many parts will require you to jump over crevasses with 100 foot drops, and climb hand over foot on some pretty technical stuff.  Because of this, please leave your pets at home as dogs are prohibited on the Saddle and Ridge trails.
(Stephen on a technical section of the trail, April 2015)
You can add more miles to this hike easily by starting from the parking area on Skyline Drive, follow the White Oak Canyon trail continuing past the Old Rag fire road junction to White Oak Canyon falls, on to the Berry Hollow Fire road, and then on to the Saddle trail.  If you do this loop (continuing from the Saddle trail, to the Ridge Trail, Weakly Hollow, and then Corbin Hollow trail) it will take you close to ten hours, and will be a little over 20 miles.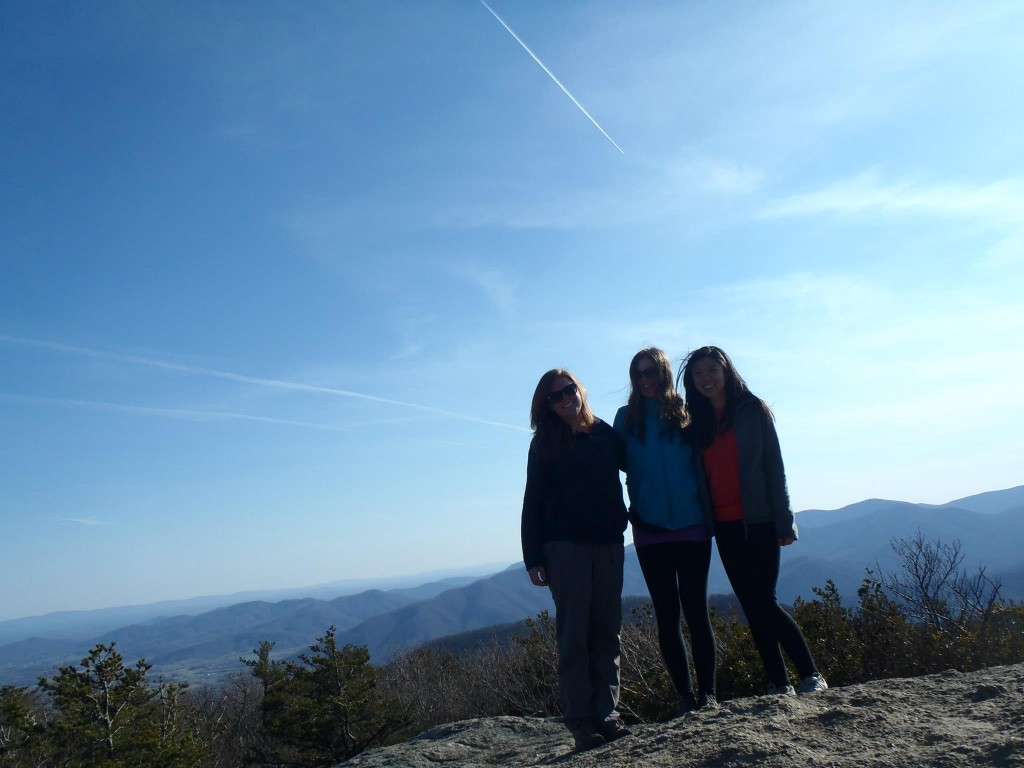 (Me and my ladybirds 4/2013)
My favorite way to do this hike, is to arrive later in the day to park at the Old Rag parking area.  You must check in with the ranger and get your back country camping permit (free) if you are planning to camp in the backcountry.  This is for your safety.  There are two things you must know if you are camping in the back country.  1.  Open fires are PROHIBITED.  2.  ALWAYS, always , always, hang a bear bag.
(campsite, 4/2015)
The Old Rag parking area tends to fill up quickly in the morning and early afternoon, but clears out as the day goes on.  There's also a nice older couple whose property is directly across from the parking area, they will kindly let you park on their property for $10/car when the Old Rag lot is full. I like to hike up Nicholson Hollow trail, and set up camp close to the Corbin Mountain Trail.  There is always great camping, and many established sites.  Here you can drop your packs, set up camp and spend the night, getting an early start (and beat the crowds) on Old Rag in the mornin'.  Check out the x's on my map, this is where I've found the best established back country campsites.
(Old Rag summit, 4/2015)