A few weeks ago a couple of ladybirds and I planned a weekend getaway in western PA.  I've always wanted to check out the so-called "Grand Canyon of PA" and I had heard some great things about Worlds End SP, so I got on the horn and called up a park ranger to get some more info.  I explained to her that I wasn't sure what trail conditions were like, and I wanted to know more about access to the trail heads, since a lot of the roads are not maintained in the winter.  I couldn't find a legible map of Tioga State Forest online (which abuts Leonard Harrison State Park, where the PA Grand Canyon is located), and was hoping she would be able to direct me to a place where I could get a better idea of what the terrain would be like, and how I could make a loop hike possible for myself and my group.
She was incredibly knowledgeable and so helpful.  I've never had a particularly delightful interaction with a PA DCNR ranger, but she really went above and beyond the call of duty.  Not only did she address all of my questions and concerns and offer some great suggestions for loop hikes, but she gave me directions to a mailbox where she told me she would leave me some maps in an envelope with my name on it.
We booked a cabin at Hills Creek State Park simply because they offered some great accommodations. They had modern cabins that were dog friendly, had hot showers, a full kitchen, and two separate bedrooms and could sleep up to 6 people.  This was glamping at its finest.  I met Janine and Ashley at the King of Prussia Park and Ride on Friday night and we stuffed all of our gear and groceries into one car and headed west on the PA Turnpike.
About 4 hours from Philly, we pulled up to a mailbox on the side of the road near a ranger station. Sure enough, there was a manilla envelope with my name on it with every possible map of the area. Sometimes people surprise you with kindness, and it is wonderful. (Thank you)
About a half hour later, we pulled up to Hills Creek State Park, and found our cabin.  It was beautiful, located right on the lake illuminated by billions of stars.  My cousin, Katie, had arrived before us and soon thereafter Laura, Kyle and Olabelle arrived!  We made dinner, did a little exploring, and planned the next two days of adventure.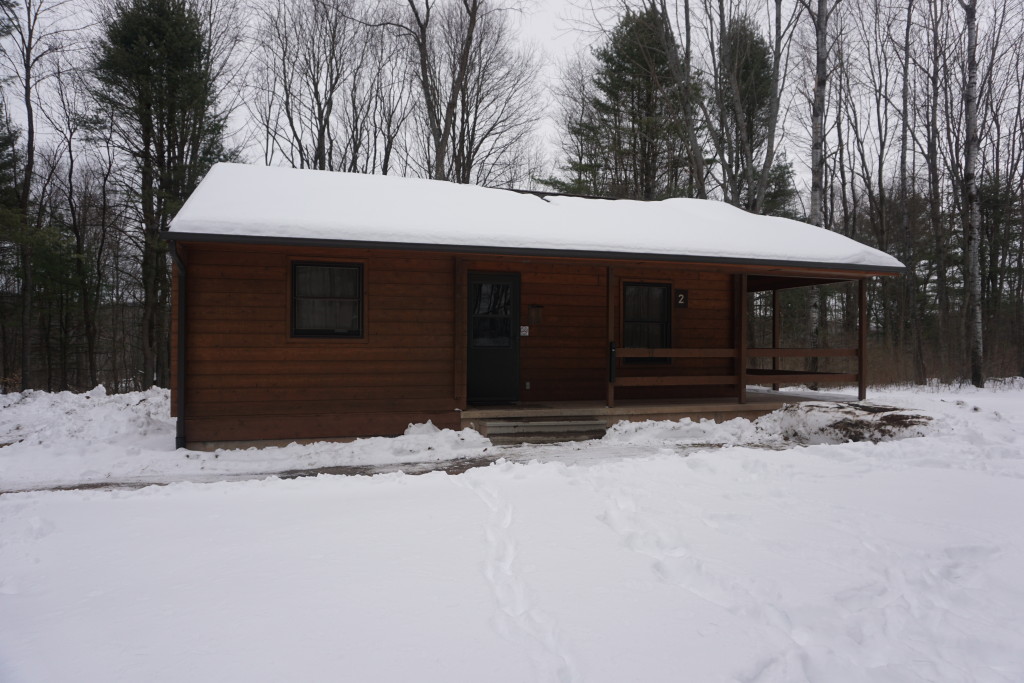 (Our cabin, photo by Laura Kay)
The next morning we woke up and went sledding down a huge hill and onto the lake. We brought ice skates and attempted to skate, but the lake was too uneven for skating, and sledding was much more fun anyway.
(Ashley and Kyle sledding on the hill)
Unbeknownst to me, Hills Creek is an ice fishin' mecca.  We chatted for a few moments with some fishermen and watched him use an auger to drill a hole through the ice, and then scoop out all the slushy stuff.
(Janine, Ashley, and Olabelle)
(Kyle and Olabelle in the pines.  Photo by Laura Kay)
We did an easy loop hike on the Lake Side Trail (3 miles) around Hills Creek Lake.  Most of us wore snowshoes or microspikes.  Frozen snow covered lake and pine tree views were endless.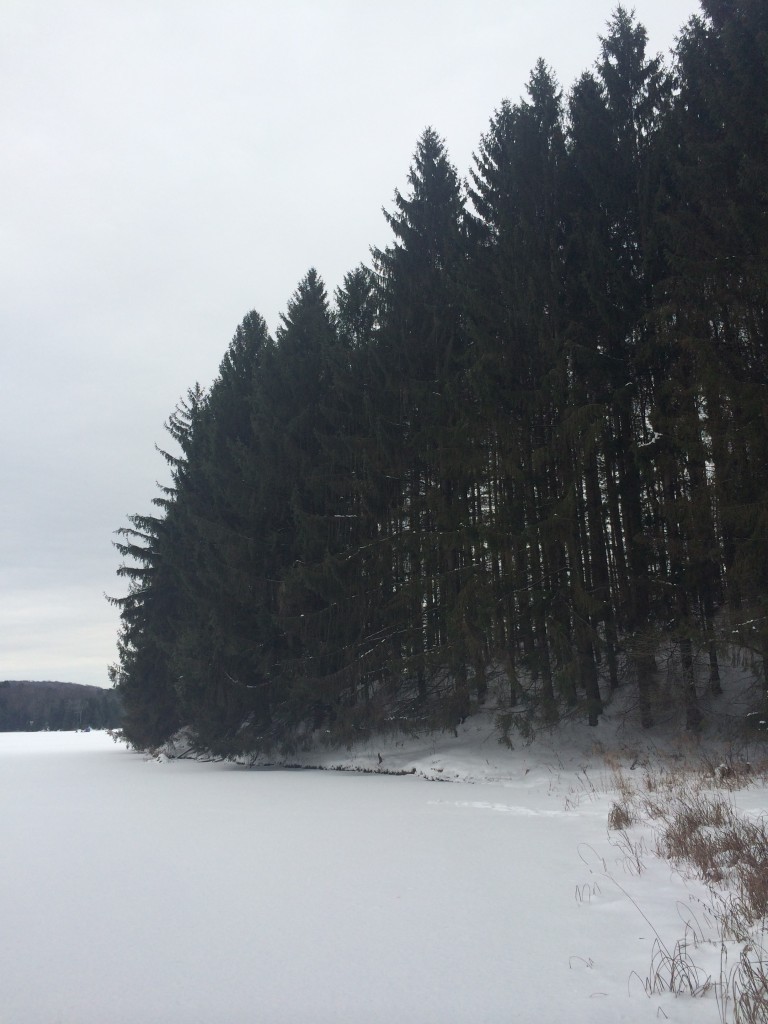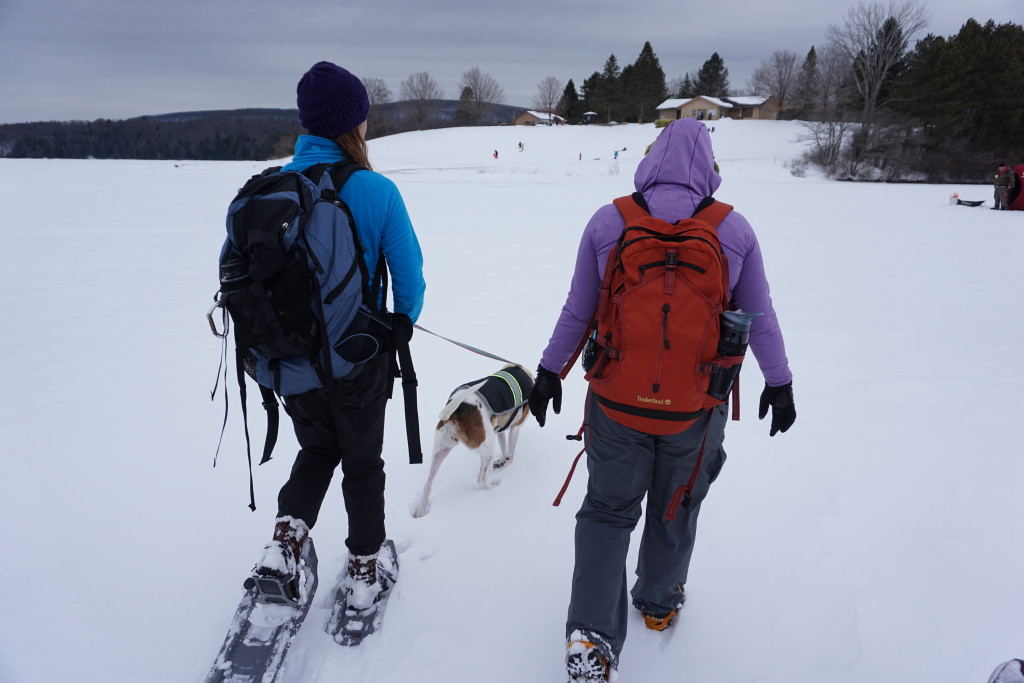 (Janine, Olabelle, and I trekking across the frozen lake. Photo by Laura Kay)
Also unknown to me, the Northern extension of the Mid State Trail crosses through Hills Creek. The Mid State Trail, aka "The Wildest Trail in Pennsylvania," runs 324 miles and crosses some of the steepest hills and highest ridgelines in the state.  Learn more about this trail here: http://hike-mst.org/ PA is wild.
Later that afternoon after returning back to the cabin, we drove the 35 minutes to Leonard Harrison SP.  I knew from speaking with the ranger, that the Rim trail was closed, and that we would only be able to access the main overlook, about 500 feet from the parking lot.  We managed to get some beautiful photos from the overlook.
(Katie, Laura, and Janine at the Otter View overlooking the Pine Creek Gorge)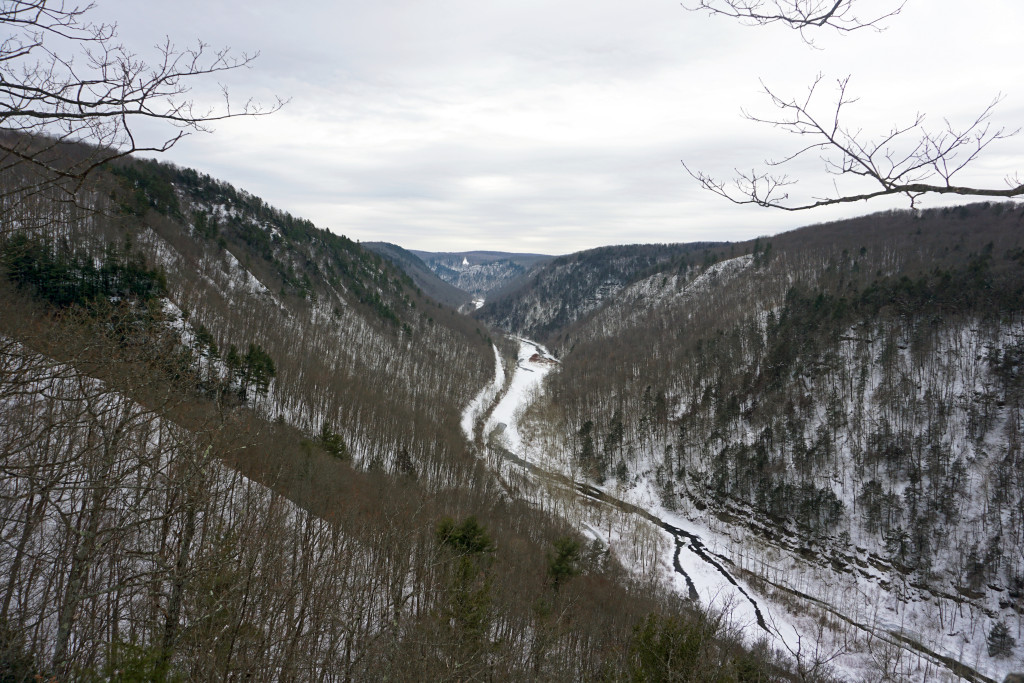 (The PA Grand Canyon, photo by Laura Kay)
After that we checked out nearby brewery Yorkholo Brewing Company where you can enjoy some fine craft beer and FRIED PICKLES!
The following day we woke up, checked out of the cabin, and made our way towards World's End State Park.  We parked at the Ranger station, located off Rt 154 just east of Forksville.  From there we hiked down the road and up the High Rock Trail, which was blazed red.   The trail was only 1 mile, however the elevation gain on this short hike was several hundred feet, and was exhausting, and at times terrifyingly steep!!
(view from top of the High Rock Trail, World's End State Park)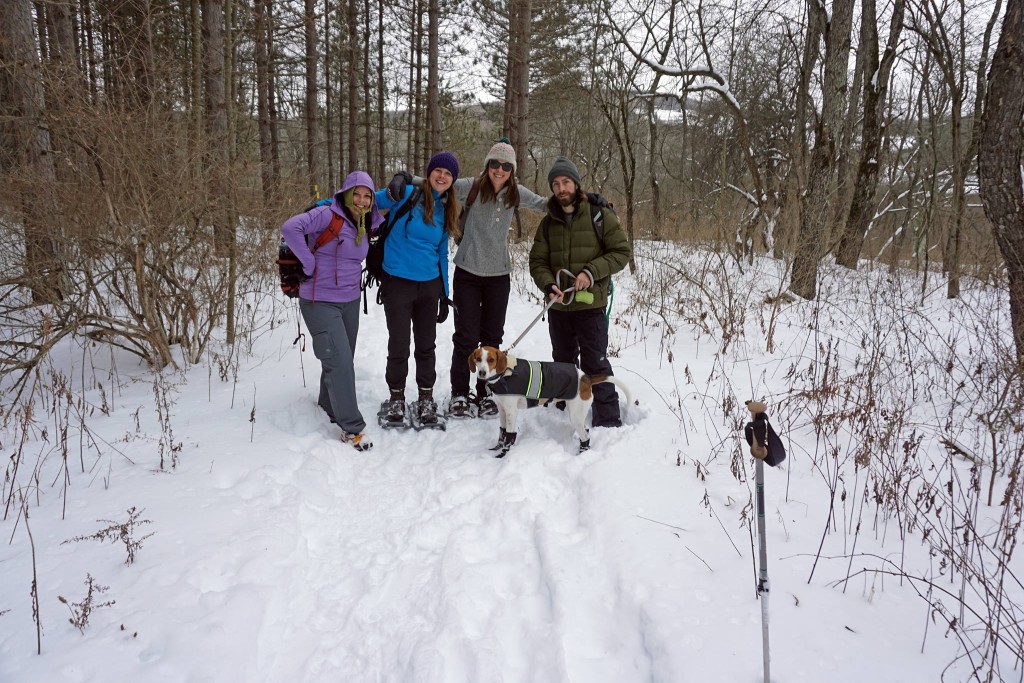 Great trip with great buddies! (Photo by the lovely Laura Kay who is not pictured!)